May 2022 – Killamarsh, Cawthorme
31 units camped for this weekend at a site that we will certainly use again.  The site is close to the entrance to Cannon Hall and many enjoyed the local countryside and facilities on offer in the park.   Campers gathered in the room on site for the evenings and we held two very enthusiastic ceilidhs in Cawthorne Village Hall with a live band, spots and a number of callers for the dances.  We enjoyed the company of a number of visitors to The Ridings for the weekend and look forward to seeing them again.
March 2022 – Hatfield Woodhouse Village Hall
22 units camped for this weekend when we held the AGM out on the field due to the brilliant weather.   The hall was used for the evening ceilidh with live music from the musicians attending the meet.
September 2021 – Lockside, Ripon
29 units camped for this weekend.   Evening music and song sessions were held in the room on site along with a folk dance on the Saturday.
August 2021 – Hutton le Hole
A fully booked meet and altogether enjoyable.  We booked the village hall and musicians, singers and dancers made for three great evening ceilidhs.  Sunday fundraising activities on site supported two very special charities.  The Cake Stall raised £269 for Cardiomyopathy UK and the Raffle raised £105 for Yorkshire Air Ambulance  – the support was really appreciated.  
July 2021 – Sutton on the Forest
Changing site in this picturesque village for this year proved a success with a weekend of wonderful weather.  
June 2021 – Epworth
Although there was again no live Music Day in the village it was a popular meet with many enjoying the local area.
May 2021 – Mr Moos Ice Cream Parlour,  Skipsea
Whilst not being able to hold our ceilidhs there was plenty of distance socialising on the field.   It appeared that there was always someone from the site queueing for an ice cream!  Delicious!!
May 2021 – Holme House Farm, Gargrave
With a delayed start to the 2021 season we had 33 units camping at this site over the May Day Bank Holiday weekend.  It was a number of years since we last camped at Gargrave and campers were able to enjoy walks along the river bank to Skipton and nearby Gargrave.   Certainly a weekend of mixed weather but enveryone so enjoyed being out in their camoping units.
2020 Meets cancelled due to coronavirus or by the landowners :  Garton on the Wold,  Coxwold,  Thornton Watlass,  Epworth, Cononelly,  Thoresby,  Wintersett,  Strensall,  Sykehouse.
August 2020 – Hutton le Hole
At long last we were able to meet on a campsite and we had 35 units enjoying this very popular site which has been our 'home' for the August Bank Holiday weekend for many years.   We unfortunately started with 2 very wet days but then the sun shone and individuals were able to come out onto the field and play musical instruments whilst maintaining social distancing as is the new norm.
March 2020 – Hatfield Woodhouse
We managed our AGM meet despite nearby waterlogged fields and the emerging coronavirus situation.  At the AGM John Hornby was appointed our new Chair and Alison Westoreland as Vice-Chair.  At the members meeting it was agreed, when possible, for camping meets to continue to take place even if instructions are given that we cannot hold the evening ceilidh activiti

es.
January Social – Nostell Village Hall
We commenced 2020 with a social at Nostell Village Hall.  10 members took up the offer to meet earlier at Anglers Country Park for a stroll around the lakes – a refreshing afternoon!  With the social being promoted in the club magazine it was great to see some new folk come along and see what we are all about – altogether an enjoyable event and we look forward to seeing our visitors again.
New Year Meet 2019 at Sykehouse Village Hall
A last minute change of site due to a waterlogged field at Braithwell allowed everyone to camp on hardstanding.  This was again a hugely enjoyable meet with impromptu sessions during the days and ceilidhs each evening culminating in the New Years Eve party night.  After the buffet meal this was crammed packed with quizes, games, spots interspersed with dances and then a final session of dancing into the new year with the now traditional 'Can Can' at 1.30 in the morning!  So fantastic how members and visitors to The Ridings contribute to create a very friendly meet.
Sykehouse Village Hall – November 2019
Our annual dinner dance weekend was another great success with the campers being joined on Saturday evening when 56 people enjoyed a fantastic two course carvery meal before a lively ceilidh with musicians, callers and singers from the group.
Wetherby Racecourse  –  October 2019
Returning to this convenient site for our October meet we had the pleasure of welcoming a number of families who normally camp with Leeds DA – there meet had been cancelled due to wet weather.  It was great how they joined in with our social activities and especially the enthusiasm of both young and old at the evening ceilidh.  During the meet, Margaret led a session with a group of members producing bunting – getting ready for our celebration weekends in 2020!   There was as fantastic spread of food for the Saturday 'American Tea' which was themed around fruit harvesting.  A lovely weekend making full use of the hall on site.
Lockside, Ripon  –  September 2019
A fantastic meet with a staggering 48 units on site including many visitors who had not camped with the Folk Group before.   The weather was great and on Friday evening we had a popular Cheese & Wine evening in the room on site followed by entertainment by Carol & Ron followed by the 'band' for the weekend.  All very enjoyable.  The ceilidh on Sat evening in Littlethorpe was equally enjoyable.
Hutton le Hole  –  August 2019
Our August Bank Holiday meet was a return to this picturesque village.   After 2 nights in the 'party tent' on the field we had 3 great ceilidh evenings in the local hall.

Sutton Park  –  July 2019
A special 'Scarecrow Meet' and some fantastic creations were 'judged' on the Sunday morning.  The winning 'favourite' as judged by the campers was created by Alison and Gary.

We had a 'traditional' Friday evening singaround in Malcolm's awning and a lively Ceilidh in the local hall on the Saturday evening.  Again ice creams were available at the cafe which was just at the site entrance!!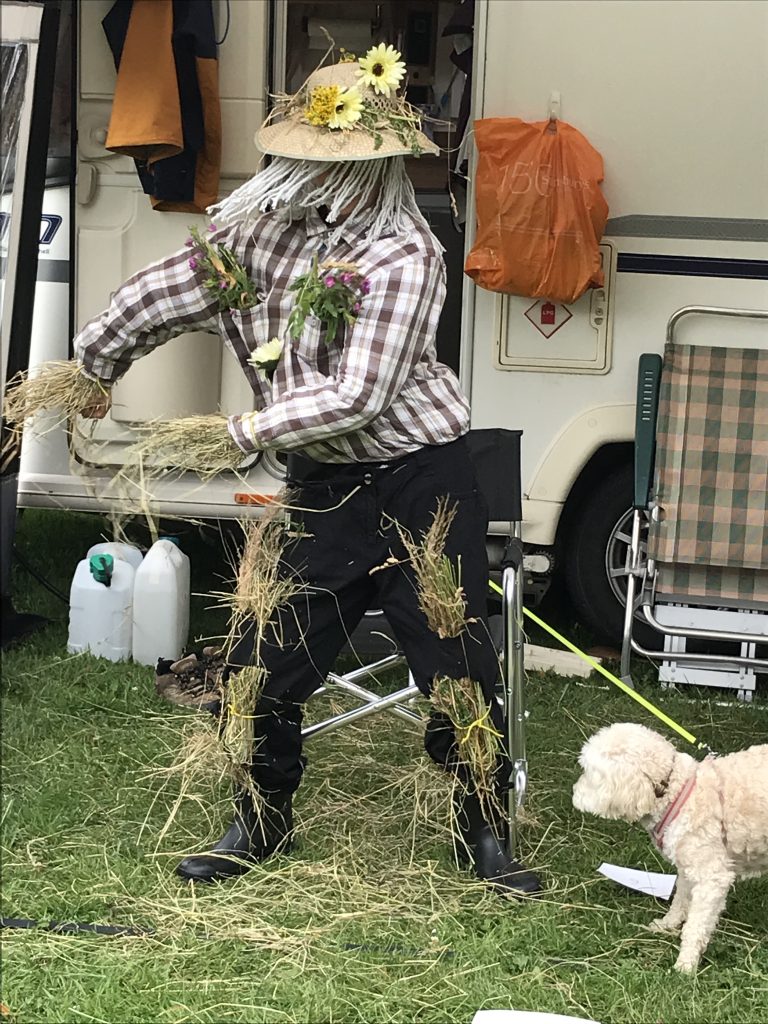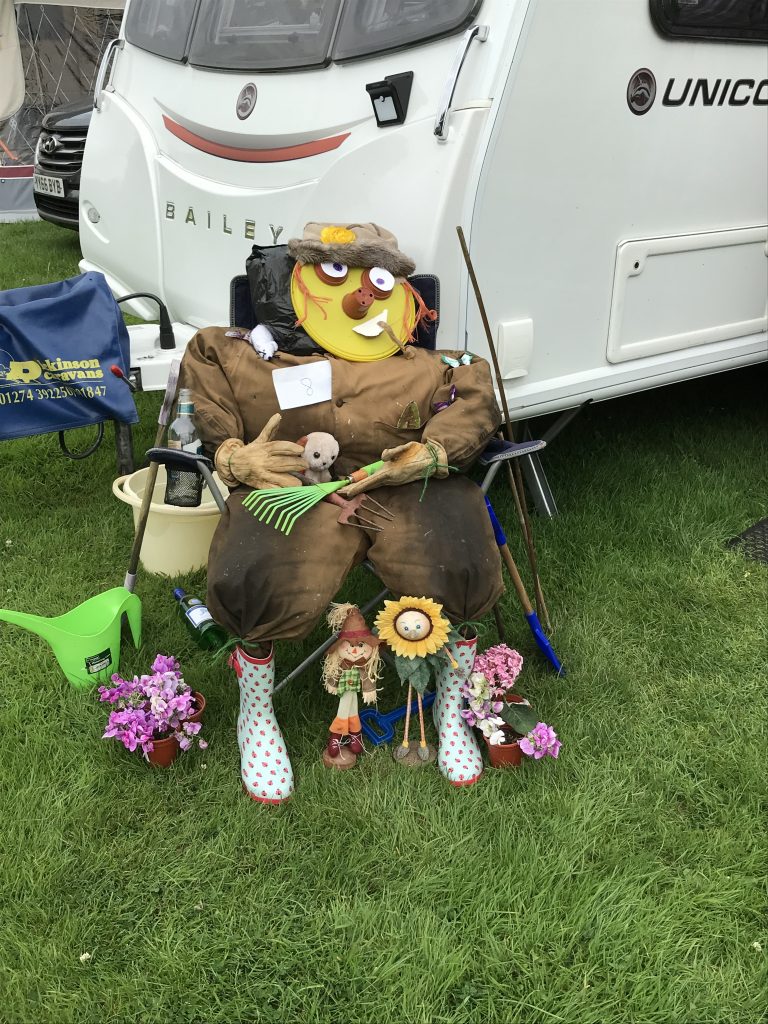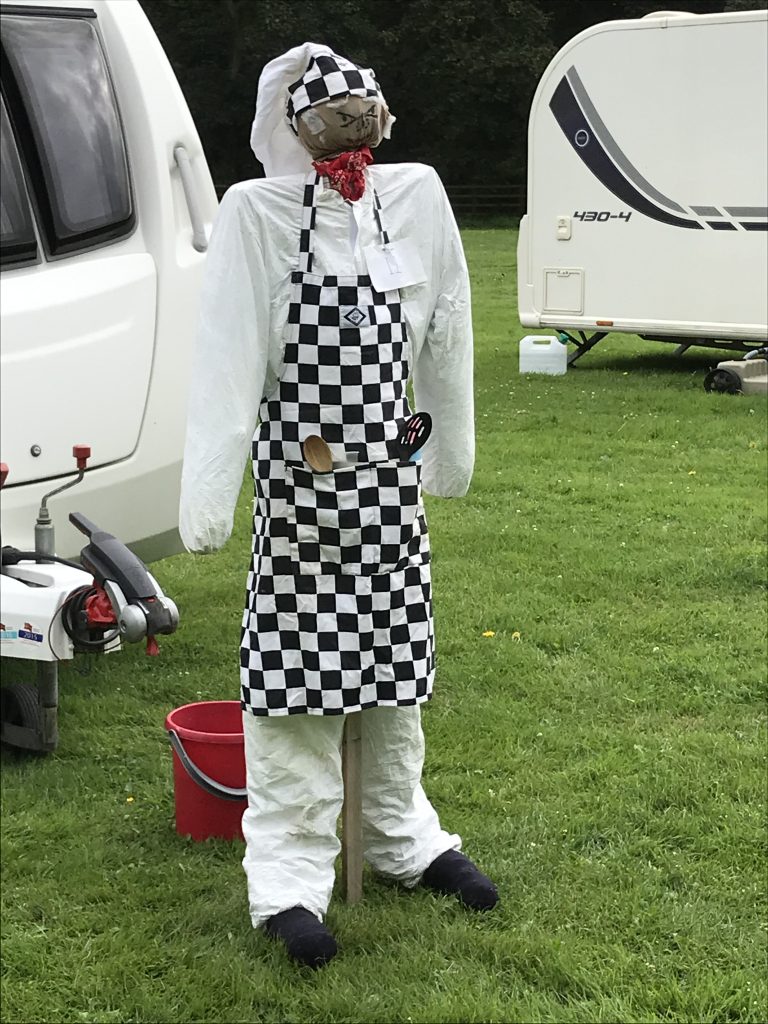 Marton & Gate Burton – June 2019
Our first visit to this site when we hosted the Folk Group AGM on the Saturday.  Great location in the centre of the village and such brilliant weather.  An enjoyable 'pub session' with songs and music on the Friday evening and then a ceilidh on Saturday.  We had fantastic weather with everyone trying to find the 'shade' for some part of the day – it was a fairly hot evening for both musicians and dancers but still a good ceilidh. 
Epworth (Music Day) – June 2019
This 5 night saw over 35 units come and enjoy another great Music Day i

n this small Lincolnshire town.  This free annual event had over 50 artistes performing throughout the town on the Saturday with an evening concert, sessions in pubs as well as our own ceilidh which again attracted a number of the local community who joined in with the dancing.   In terms of the weather it was a meet of 2 halves with the meet starting with brilliant sunshine and then the rain arrived on Sunday evening!!  Still an enjoyable meet.
Thornton Watlass  (May/June 2019)
This 5 night saw 30 units enjoy the 'follow-on' to our Spring Bank Holiday meet.  Again in a lovely village with pub and convenient hall.  A Social and two Ceilidhs were held in the hall with a room at the pub being utilised for the Thursday evening Singaround.  A ladies luncheon was also held at the pub on Friday.  Another enjoyable meet.
Coxwold Village Hall (Spring Bank Holiday – 2019)
This 5 night meet saw some fantastic weather and the Friday evening singaround start on the field with Garry leading the proceedings – a number of campers were welcomed to The Ridings during the evening.   As Saturday arrived we had the monthly Coxwold Village Market taking place on the car park and in the hall – an opportunity to stock up in food and beverages as well as many other products that were on sale.  Ceilidhs were held in the hall on Sat, Sun and Mon evenings with a variety of callers, spots and upto 15 musicians playing in the 'scratch' bands.  As the winds came on Sun there was a select gathering for the communal BBQ.  Altogether a great meet with 40 units enjoying this delightful area.
Grange Ash Farm, Wakefield (May 2019)
                                       
Another new site for The Ridings and a great weekend.  On Saturday a group went on an underground tour to the National Mining Museum and then Sunday morning saw campers drive over the New Miller Dam and enjoyed a walk around the area.  We used a lovely hall in the local village and on Saturday evening we welcomed Mavis, Anne and Malcolm who all camped with The Ridings many years ago. These were lively evenings with a number of callers and entertainment spots.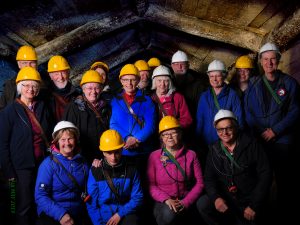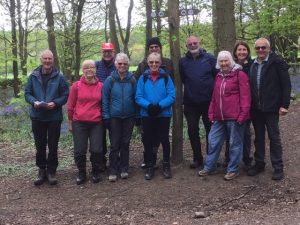 AGM weekend – Hatfield Woodhouse (Mar 2019)
Our first visit to this site proved popular and especially with an Ice Cream Parlour just down the road!!  After the formalities of the meeting, we had a mass takeaway tea with orders from the local fish & chip shop, carvery and cantonese takeaways.  A great Saturday evening dance with four callers, live music and three song spots.
Winter Social  –  Visit to Cusworth Hall and an evening at Scawsby Community Centre (Jan 2019)
16 members visited Cusworth Hall for a couple of hours, enjoying a stroll around the grounds on a pretty chilly afternoon before walking back up to the hall to visit the local history museum and tea room!  At the Community Centre we were joined by more members when we shared photos of The Ridings from years gone by, had a fantastic shared tea before a lively ceilidh – great start to 2019!
The Ruddle Centre, Braithwell – New Year Meet (2018/2019)
"We thoroughly enjoyed the friendship, dancing and food etc.  Every year we look forward to this meet and each year it gets better!"  quoted by a regular at the meet
Our 6th New Year meet where everyone contributed to this meet with fabulous company, great food and plenty of music, song, and dancing along with daytime activities including games, crafts, music and dancing.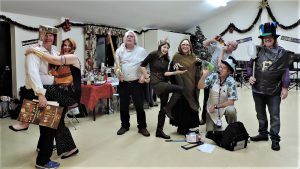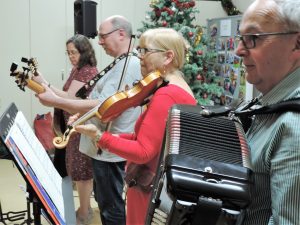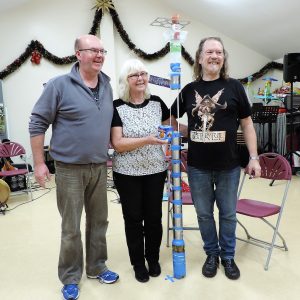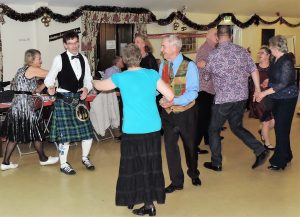 Wetherby Racecourse – October 2018
23 units attended this meet and enjoyed socialising over this extended meet.  The on-site room was put to great use and enabled a couple of evenings of singing and dancing as well as crafts, a longsword workshop, music and dominos!   
We held a shared tea on the Saturday with many apple themed dishes – such amazing variety.  This was followed by the evening ceilidh with some great music and singing as well as a demo from the newly trained 'Longsword Team' !!
Bishopthorpe, York – September 2018
A  great weekend within walking distance of York (for some!) whilst others used the park and ride service.   The site is also within easy walking distance of Bishopthorpe where we held our ceilidh on Saturday evening. 
Hutton le Hole  – August 2018
Our regular August Bank Holiday meet was again at Hutton le Hole – with a site in the centre of the village we are able to enjoy this picturesque village first hand.   A beautiful base for walking as well as being within reach of the east coast.  Campers gathered for 2 nights in the large party tent on site and enjoyed some singing and then we held ceilidhs in the village hall for the next 3 nights.  These were great evenings with such a wealth of talent performing spots, playing in the band or calling the dances.
Sunday morning saw our regular stalls on the field comprising of bring and buy, a book stall, filled jam jars, regalia and the opportunity to enjoy sausage sandwich!   All together a fabulous meet.
Photo stop on the Monday ramble to Lastingham …….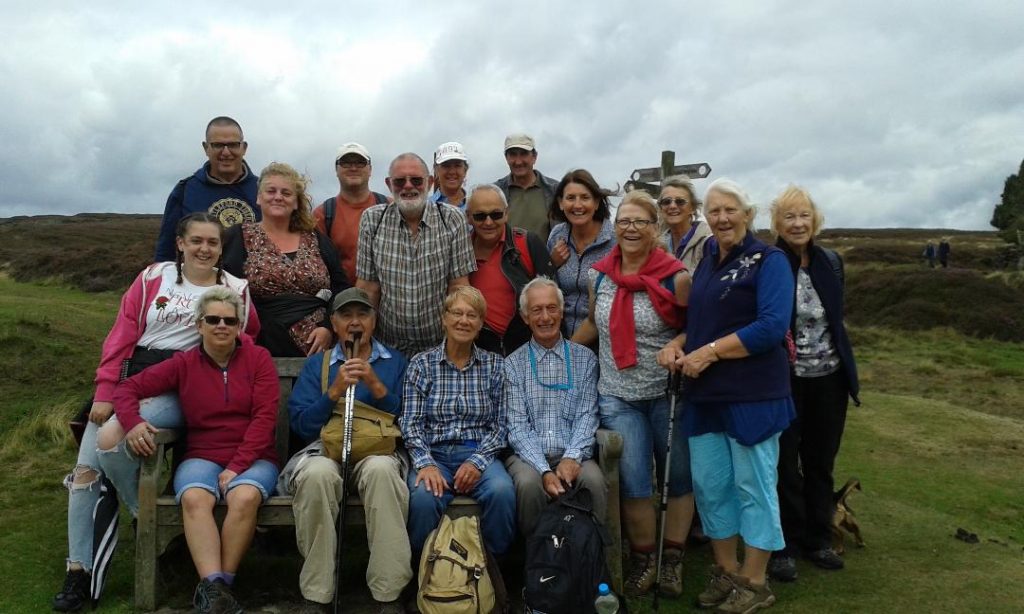 Epworth Music Day – June 2018
A first for 2018 as we camped at Epworth to coincide with their Music Day.  It is a lovely site and just a short walk into the town.  The weather was fantastic.  On the Saturday the town was busy with such a variety of music being performed at around 10 locations in the town.  We planned for our Saturday evening ceilidh to be included in the programme and members of the local community joined us for a lively and fun evening.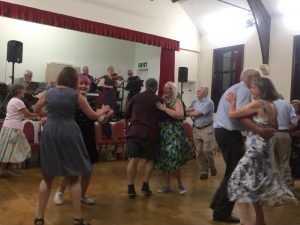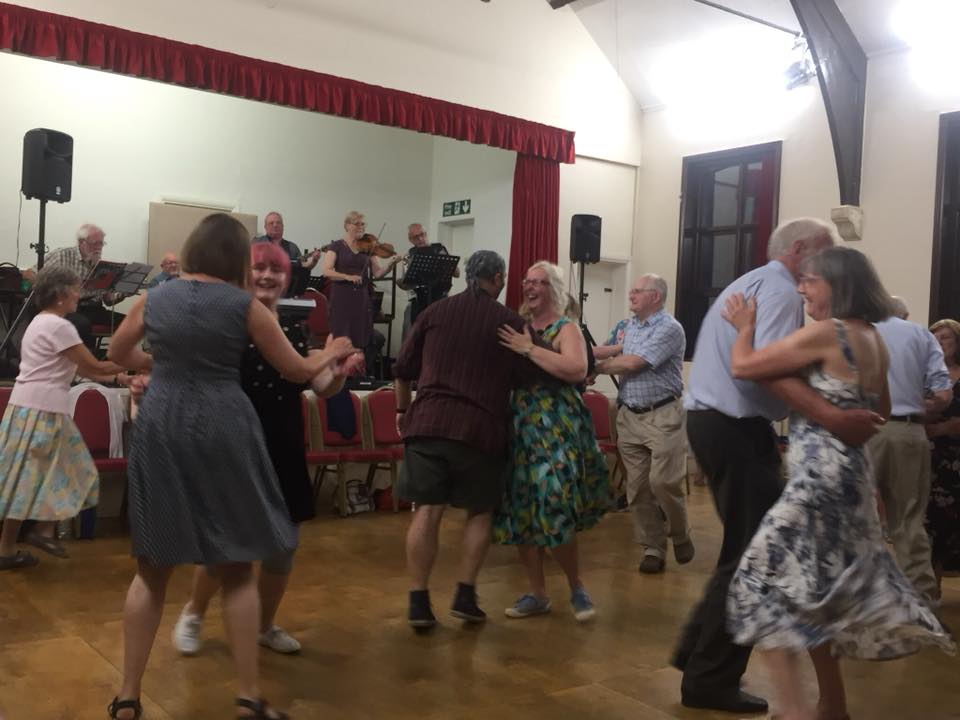 Following the evening the following was posted on Facebook:
'Loved the ceilidh, great band, great callers. We did all but one of the dances, and had a great time. Perfect end to a super day. Hope it runs next year as well. Oh, and a friendly welcome from the Ridings Folk Group'
'We were the family with all the little girls and we had a blast, we loved how patient and helpful everyone was with some very small and enthusiastic children!'
'Great day, especially liked live music at the ceilidh. And dancing till 2230. What a brilliant experience. Looking forward to next year.'
We did ourselves proud! and look forward to new dancers joining us in the future.
Hinderwell,  Nr. Whitby  SBH part 2 – Mar'18
Although arriving in a sea fret!   the weather did improve during the week enabling us to take in the views along this stretch of coast.  It was a leisurely week with gatherings on the site and 2 evening ceilidhs in the local hall.   Great to have some visitors join us at this meet – nearly doubling the size of the band!!  We are always pleased to welcome visitors to our meets / events.
Sally Hill Farm, Whitby – Bank Holiday Week part 1 – May'18
Visiting this site for the first time we had views across Whitby and the spectacular abbey.  As well as the evening ceilidhs, most members ventured into Whitby to partake Fish and Chips!.  On the Sunday a group enjoyed a circular walk from Sandsend, initially heading northwards along the Cleveland Way coastal path – a very enjoyable walk and such fantastic weather to admire the views
Barlow  –  May Day Bank Holiday May'19
A fantastic sunny weekend camping on the field adjacent to the hall.  As well as our evening ceilidhs we tried May Pole dancing on the field.  On the Sunday afternoon six 'volunteers' took part in our first 'Cake-off' challenge – a fun event and the produce was then added to the huge buffet table for the outdoor American Tea.
Riverside Caravan Park at Cononley – April'18
Our first camp of the year and with a lot of visitors to this great site, in such a beautiful area, we had a total of 39 units.  We used the Village Institute hall for two enjoyable evenings of dancing and song.  This extended 5 night meet started with a heatwave and finished a little damp!!
AGM at Ripon – 17 March 2018
The camping for our AGM weekend had to be cancelled due to a waterlogged field.  However, the meeting still took place and the committee was appointed for the year ahead.
Following the members meeting, Sally ran a craft activity creating 'St Patrick's Day' bonnets! (pictures on the

Images

page) A great spread of food was shared before a very competitive quiz on Ireland.   The band played for dancing using many Irish tunes and a number of dances with Irish names!!  (some very similar dances to well known English ones!)   During the evening we sang some popular Irish songs accompanied by John.  Now looking forward to better weather and the chance to be out camping.
The Ruddle Centre (New Year Meet) Dec'17/Jan'18 2017
Another great New Year Meet at Braithwell with 30 units camping and 64 'friends' enjoying the four fun packed days.  Said by many to have been the best New Year yet!  Everyone contributed to this meet and with fabulous company, great food and plenty of music, song and dancing along with daytime activities including games, crafts, music and dancing this all produced such a brilliant start to 2018. 
Eggborough Village Hall  –  Oct 2017
What a sunny weekend – arriving on Friday and sitting outside for a cuppa and then leaving whilst the sun was still shining!   A great last meet of the season with 18 units on site and many others coming for the Sat eve.   We had another popular cheese and wine evening on the Friday in the hall with plenty of time to meet new friends and catch up with others.  The carvery meal on Sat was as fantastic as ever and followed by a ceilidh with live music, 4 different callers leading the dancing and 2 entertainment spots all making up for an enjoyable time.   
Sutton Park  –  October 2017
Our first visit to this fantastic site located in the centre of a beautiful village.  The hall in the village was used for the Friday evening social with dancing and singing.  On Saturday we started with an American Tea with the deserts based on apple – what an amazing variety and choice!!   The evening continued with our lively ceilidh with a decent size band of musicians, 4 callers for the dancing and a couple of spots.  It was good to see new members join us at this meet and pleased how they were able to join in the activities – we look forward to seeing you again.
Hutton le Hole – August Bank Holiday 2017
Our regular visit to this picturesque village in North Yorkshire had the added bonus of some fantastic weather.    44 units were camping and able to enjoy all that was on offer.
The village hall was used for the Friday singaround and three great evening ceilidhs with a number of callers, spots and a large number of musicians in the bands.    The Sunday fundraising produced a generous donation to Yorkshire Air Ambulance of £154.   
The site is again booked for 2018 –  put it you diary!
Cawthorne  – July 2017
A return to this site which is situated in a stunning South Yorkshire village with the Canon Hall estate on the doorstep and only a short walk from the site.  A lively Saturday evening ceilidh was enjoyed in the local hall.   
Watton – June 2017
Our first visit to this site enabling everyone the chance to visit the activities associated with the Beverley Folk Festival.  Friday evening was spent in the room on site socialising or joining in a game of 'chicken foot' (dominos for many!).  Even with the heat we managed to play and dance on the Saturday evening in a local village hall – a very quaint setting.   The site had its own nature trail and was a welcome relief from the blazing sun.  Even at the coffee morning, the group had to gather under the shade of a tree!
Thornton Watlass – May 2017
The second venue for our Spring Bank Holiday week of camping.  A wonderful village setting and in beautiful countryside for outdoor activities.  The hall was adjacent to the site entrance and used for a games evening on the Thursday and for our ceilidhs on Friday and Saturday evening.  A very enjoyable meet for everyone who attended.
Coxwold – May 2017
This was a new venue for The Ridings and such a great site – we will definitely be back!  The hall on site was used for the singaround and 3 evening ceilidhs.  The sun shone for the Sunday teatime mass barbeque and was very popular.    Coxwold was a very picturesque village and located close to some great walking country.
Wintersett – April 2017
An enjoyable weekend with easy access to the adjacent nature reserve.  Nostell Village Hall as was used for the Friday evening singaound when we had 'hot dogs'!    On Saturday we were back in the hall for an evening ceilidh, dancing to live music.
Wetherby Racecourse – March 2017
Although a blustery weekend, the hall adjacent to the camping area was put to great use throughout the weekend – singaround;  mass 'take away tea';  ceilidh;  coffee mornings and the AGM on Saturday afternoon.
Winter Socials – Jan/Feb 2017
Two great winter socials took place this spring to enable members to keep in touch before the new camping season and also enjoy particpating in activities.  The January social held in Doncaster included a very popular contra dance workshop whilst the February event held at Monk Fryston included a craft gather and music session.  Following these workshops there was a fantastic shared tea before the evening ceilidh with dancing to music played by members of The Ridings.
The Ridings 4th New2Year Meet 2016 – The Ruddle Centre, Braithwell, Nr Doncaster
A fabulous time was had with 28 units camping to celebrate the 2016/2017 New Year. For 4 days and evenings we enjoyed each other company and ate some fantastic food, played games, shared craft activities, danced loads, played a lot of music, had performances from some great acts and so much more as we built up to the New Year.
It was great to welcome newcomers to 'The Ridings' family and look forward to meeting you all later in the year.
Eggborough Village Hall  –  Dinner Dance Meet – November 2016
17 units camped when we returned to this venue in 2016 and with more visitors joining in for the meal on the Saturday evening it became a fantastic event.  The meal was up to the very high standards expected of our caterer and once the meal had settled down we had an enjoyable evening dance.
The hall was used on Friday evening for a singaround whilst others entertained themselves with a a game of 'chickenfoot' using a colourful set of 'double 15' dominos.
With a Sunday morning coffee morning – all together, a most enjoyable meet (and with reasonable temperatures!).
Ripon  –  4 night meet – October 2016
Camping on the rally site at Lockside, 20 units benefitted from the fantastic weather and took the opportunity to explore the local area and countryside.  We welcomed 4 units that had not camped with The Ridings previously.  The room on site was used for a get-together on Thursday evening and then our first 'Cheese and Wine' evening on Friday when we also had some dancing, singing as well as a lot of chatting!
Our Saturday evening ceilidh was in the local village hall with a large band, great song/music spots and with John, Rosemary, Ron and Margaret calling the dances creating a very enjoyable evening.
The Sunday morning coffee morning took place with a spot of entertainment! as Roy delivered a workshop on the field to learn a longsword dance – great fun for participants and the spectators!
Sykehouse – Folk Section Autumn Gather – Sept 2016
The Ridings hosted this annual meet in 2016.  Held at Sykehouse Village Hall it proved an ideal venue with camping on the field to the rear of the hall.  Thursday evening saw an entertaining 'Open Pub Session' hosted by Garry and on the following three evenings we held Ceilidhs using a large number of callers, a variety of 'spots' and a band (with up to 17 musicians). 
During the days, the hall was utilised for members to share a range of crafts, music sessions and a longsword workshop.  A highlight of the weekend was the MacMillan Coffee Morning with members enjoying a feast of homemade cakes and generously donating a total of £360 for this worthwhile cause.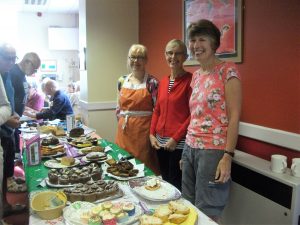 Overall a  great meet, welcoming new members to the Folk Section and with some great weather to enjoy socialising around the site.  
Hutton le Hole – August Bank Holiday 2016
This popular 5 night meet had the largest turnout seen during the past 3 years.  With most units arriving in heavy rain on the Thursday, the remaining days saw some great weather.   
Over the weekend most campers wandered down into this picturesque village (and consumed an ice cream or 2!) as well as enjoying the fantastic countryside surrounding the site.
Informal coffee mornings took place on site and the village hall (just cross the road) was used for a singaround on the Friday evening as well as the ceilidhs on Sat, Sun and Monday evenings.   The amazing talent of members attending this meet was evident with great singers, instrumentalists and the stage being full of musicians forming a scratch band for the evening ceilidhs.   Numerous callers took control of the dancers and catered for the regulars as well as a number of first-timers with The Ridings.  
A regular feature of this meet is our fundraising activities held in the 'party tent' on Sunday morning.  These included a book stall, bring and buy, filled jam jars, raffle and hot dogs!  The raffle from the meet saw a donation of £90 being sent to the British Heart Foundation – well done everyone.